Zinman's Food Sh
op and Vegan Bistro
                         ANNOUNCEMENT 
Valued customers: 
Zinman's food shop Will be closed today, November 15 because of the medical emergencies 

Dearest customers:
We are open this coming week 9-5 Mon thru Friday. Our new manager Debra – now full time! – will be handling that. The following week Ellie gets her permenant work permit! So begins November 10, our hours will be 9-8 M-F. and 11-8 Saturday's and Sunday's. Beginning the 16, Saturdays will feature a Persian supper and Sunday's will offer a Tohono O'odham supper – all vegan, all the time, also please look forward to signature little pizzas.
Hours
– 9:00 am to 5:00 pm Monday thru Friday
               Delivery Hours 9:00 a.m. to 7:30 p.m. daily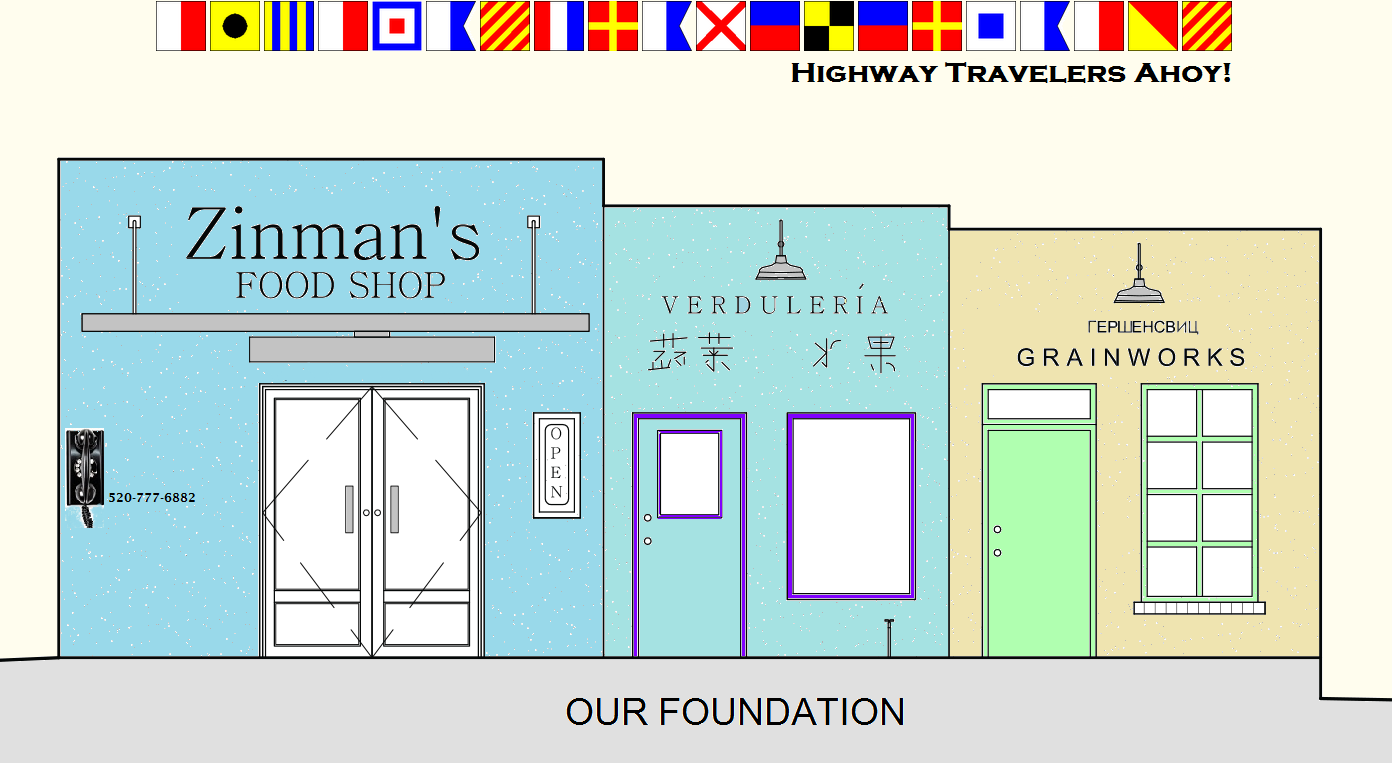 Plant-Based Foods with Traditional Sensibilities
Nestled in a residential neighborhood near downtown Tucson, Zinman's Food Shop is an old-fashioned kind of place to buy fresh plant-based foods.  Whether you enjoy something from the Vegan Bistro or purchase plant-based items in our retail shop, Zinman's offers thoughtfully prepared fresh foods with a friendly neighborhood vibe.
Look for the Vegan Bistro, our food shop and the Grainworks on 4th Street, under the colorful flags.
Vegan Bistro
Our
Vegan Bistro
 serves breakfast, lunch, and supper with special emphasis on perfectly prepared fresh produce items, cooked with minimal seasoning in the ging chao tradition. Eat on our open air patio, or take the food with you for a tasty treat later.
We serve you locally grown and seasonal produce whenever possible. We even grow some of our own produce in a thousand square-foot herb garden in the back yard of the shop!
Zinman's patio is pet friendly.
Grainworks
We sell grains and seasonal produce, and we also process produce and grains into prepared and semi-prepared foods for sale. Our grains – like Pima Club Wheat, White Sonora Wheat, and Durum – are milled fresh on site and available for sale.   We have whole kernel corn, garbanzo beans, and tepary beans.  And when you discover how good freshly rolled oats can taste, you will never go back to the store brands.  See all our grains and pulses on our
GrainWorks
page.
Specialty Restaurant Grocer
We are proud to be a specialty wholesale grocer for local chefs – and to offer the same food to retail customers at wholesale prices.
Address:
111 W 4th St, Tucson, AZ 85705